Chiropractic Care
Adjustment Techniques at
Hoffman Chiropractic & Wellness
At Hoffman Chiropractic & Wellness, we use a number of highly-effective adjusting approaches to help improve spinal biomechanics and reduce nervous system interference. The approach we use is based on our judgment and years of experience.
Dr. Norman Hoffman uses adjusting techniques that are appropriate for you. The primary adjusting techniques we use include: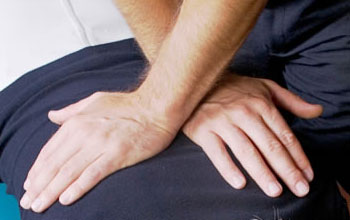 Subluxation Station
This technology helps us assess your nervous system by measuring tiny amounts of heat and electrical differences along your spine.
Read more about Subluxation Station +
Introducing the 5 Tech System
One component to our approach to chiropractic is the remarkable Insight Subluxation Station technology. This system has been awarded certification as Space-Certified technology by NASA. This technology allows us to establish a reliable and scientifically valid representation of our patient's condition. This system is able to detect problems are not measurable by a doctor alone.
The Insight Subluxation Station™ Discovery model is a 5-technology unit that provides a comprehensive picture of our patient's neurospinal health. The tests are painless, non-invasive, scientifically sound and easy to understand. Our integrated technology includes:
Thermal Scan
As you'd expect, this measures temperature. When there are disturbances to your nervous system along the spine, there are often temperature differences from side to side. This is due to inflammation and changes in blood flow. Our thermal scan is non-invasive and reveals the condition of your autonomic nervous system controlling your organs, glands and circulatory system.
Inclinometer
The Insight™ Inclinometer is used to perform accurate spinal range-of-motion (ROM) measurements. There are three market-leading features to the Insight Inclinometer:
It is three dimensional – meaning you can do rotation with the patient in the upright position!
It is hands-free which leads to a much faster and more accurate exam.
It is wireless using Blue Tooth™ technology and has passed all wireless coexistence regulatory requirements.
Algometer
The Algometer enables doctors to obtain accurate information concerning the sensory portion of the nervous system by mapping pressure/pain sensitivity along the spine. The doctor applies pressure to tender areas; the Pressure Pain Threshold (PPT) is determined by the amount of force required for the patient to first perceive discomfort. Previously subjective perceptions can now be accurately measured, mapped and graphically displayed to assess progress throughout a course of care.
PWP – Pulse Wave Profiler
The Pulse Wave Profiler helps the doctor to determine your overall ability to adapt to stress. It does this by looking at the timing of your pulse, and determining the balance and tone of your nervous system. This exam is known as heart rate variability. Proper balance and tone are associated with better adaptability and a healthy lifestyle. Low heart rate variability is associated with aging and poor heart health. Published research has shown that chiropractic adjustments have a beneficial effect on heart rate variability.
Surface EMG
Surface Electromyography measures the minute amounts of electrical energy in the muscles along your spine. Subluxations disturb the function of the nervous system. This can produce too much or too little electrical activity in your muscles. We use this highly-accurate, non-invasive scan to document your progress. It's more accurate than how you feel.
Cranial Adjusting
Not only is your skull made up of many bones, their ability to move can profoundly affect your health which is why we rely on this powerful technique.
Read more about Cranial Adjusting +
The bones of the skull move. Conventional wisdom suggests that the skull is a solid structure, like a helmet, protecting the brain. Yet, the 22 bones of the skull move, with a subtle rhythmic pulsing (about 10-14 per minute) that turns out to be a significant factor in our health. The Cranial Adjusting Technique we use unlocks this surprising, and often overlooked connection.
Compensation Reactions
Bones of the skull can often become injured during the birth process. Besides the interruption of the rhythmic pulsing, once the distorted, torqued or warped pattern is established, a compensatory 'distortion' can occur along the supporting spinal column below. This can set the stage for a variety of health issues, many without obvious symptoms.
The Physiology
The rhythmic movements felt along the joints of the different bones of the skull, called sutures, can be felt with the fingertips. Restrictions are thought to interfere with the normal circulation of cerebrospinal fluid. This fluid serves as a 'shock absorber' for the delicate tissues of the brain. By detecting aberrations, we can uncover the underlying cause of many ailments, especially those of the jaw and other parts of your head.
Those who have had traditional chiropractic care often remark that after receiving Cranial Adjusting, there is a better resolution of their chronic spinal subluxations.
Simply put, when we move the bones of your skull, it allows your entire body to work better.

Extremities
While many health problems can be traced to the spine, wrists, elbows, shoulders, knees other joints of the body can be helped.
The chiropractic approach that works so well with the spine can be applied to other joints of your body. Virtually every articulation of your skeletal system is susceptible to fixations that can impair function and range of motion:
Wrist
Carpal tunnel syndrome is usually due to compression of the median nerve as it passes through the band of ligaments in your wrist. In many cases, the underlying cause is a misalignment of one or more joints of your neck, shoulder, elbow or wrist. Identifying the involved joint(s) and a program of chiropractic care can often avoid surgery.
Jaw
Stress, teeth grinding and spinal problems can cause TMJ (temporomandibular joint) disorders where your jaw connects to your skull. (You can feel the joint move by placing your fingers in front of your ears and opening your mouth.) Skilled chiropractic care can restore proper nervous system control of involved muscles and ligaments, reducing pain, stiffness, clicking sounds or locked jaw.
Shoulder
Many shoulder problems originate in the area where the nerves branch from the spinal cord and exit the neck. Shoulder pain or pain radiating down the arm can be accompanied by weakness, numbness or tingling in the wrists or hands. Many patients report dramatic improvement with chiropractic care.
Elbow
Classic tennis elbow (lateral epicondylitis) is a repetitive strain injury that often afflicts the dominant arm. It is seen among carpenters, mechanics, office workers, cashiers and those who perform repeated hammering, grasping and rotary forearm motions. A thorough examination followed by appropriate chiropractic care can produce excellent results.
Hip
The hips and sacrum, considered the "pelvic girdle," is the foundation of your spine. These sacroiliac joints can affect nerves exiting the spine. While the chiropractic adjustment of the hips can produce excellent results, many hip problems can be caused from malfunctioning joints above or below the pelvis.
Ankle
The ankle is the most frequently injured joint in the body. "Pronation," in which the feet flare outward and kneecaps rotate inward, is the most common foot problem. When weak arches cause the bones of the foot to drop to an unstable position, stress on the foot increases. Adjusting malfunctioning joints of the feet, combined with custom shoe orthotics, can reduce tenderness, improve your gait and stabilize the entire skeletal system.
While many health problems can be traced to the spine, other joints of the body can be involved. When chiropractic techniques are applied, range of motion can be improved and painful inflammation reduced. Without drugs or surgery!
AK Applied Kinesiology
Testing the strength of specific muscles of your body helps us find structural, chemical and mental problems and monitor your results.
Read more about AK Applied Kinesiology +
Applied Kinesiology borrows from many different disciplines, using muscle testing as a guide for diagnosis and patient care.
The ancient Chinese observed that every muscle in the body links to a specific organ, gland or acupuncture meridian. By testing the strength of its related muscle, we get a glimpse of the condition of that particular organ or tissue. Simple muscle testing helps us uncover the structural, chemical and mental problem that may be in your body. It can also direct us to the best options to restore your health.
Finding the Problem
First, we review the history of your health situation. This is followed by a thorough physical examination. Instrumentation and laboratory tests may be needed. Then we analyze your posture, the way you walk, turn and bend. By combining these findings with muscle testing, we develop a unique insight into the cause(s) of your problem.
Resolving the Problem
With an understanding of your problem, we select from a variety of healing modalities, which may include:
Chiropractic adjustments
Joint mobilization
Acupuncture meridian therapy
Nutrition supplementation
Cranial techniques
Muscle rehabilitation
As the discipline of Applied Kinesiology has been refined, it has broadened to include the evaluation of vascular, lymphatic systems and cerebrospinal fluid circulation.

Cold Laser Therapy
The Erchonia cold laser device has gained recent FDA approval for the non-surgical treatment of neck and shoulder pain, low back pain, and heel pain. It is being used widely in the NFL and by the USPS tour de France team chiropractor.
Read more about Cold Laser Therapy +
The Erchonia cold laser device has gained recent FDA approval for the non-surgical treatment of neck and shoulder pain, low back pain, and heel pain. It is being used widely in the NFL and by the USPS tour de France team chiropractor. The beneficial effects of the Erchonia laser is also useful in speeding up the healing of soft tissue injuries as well as post-operatively.
When the body has an injury the cells are damaged and fail to function within normal parameters. Low level lasers penetrate deeply into the skin and work by restoring this abnormal cellular function. Physiologic effects include improved metabolism, circulation and tissue healing.Read More>>>
Laser therapy may be useful to you if you have any of the following:
tendonitis
frozen shoulder
post-operative wounds
sprain-strains
scar tissue
chronic or acute pain
wound healing
arthritis
migraines
disc herniations
minor nerve damage
carpal tunnel syndrome
Foot Levelers
Problems in your feet can create compensatory problems in back and neck. These custom orthotics can make a dramatic difference.
Read more about Foot Levelers +
It surprises many that we will often focus on the feet, when the problem seems located in the neck or lower back. Yet, your pelvis and feet are the foundation of your spine. Problems in one area can create compensatory problems in the other.
That's why we often recommend Foot Leveler Spinal Pelvic Stabilizers.
Weight-Bearing Scanning
First, we make a 3 dimensional cast while you are standing in a normal, weight-bearing stance. This records areas of stress on each foot. They are used to analyze your feet. Up to 16 different data points are used to create a unique, one-of-a-kind shoe insert designed for your specific postural or structural challenge.
Better Posture Starts With Your Feet
These are custom shoe inserts that support all three arches in your feet. This creates a healthier, more attractive posture, plus a more stable foundation for your entire body. Though they may go unnoticed, these subtle imbalances can contribute to postural misalignments, knee pain, hip problems, head tilt, forward leaning head carriage and general fatigue.
Best of all, not only do they work great, they feel great!

Diversified
After identifying which vertebrae have lost their normal motion or position, a specific manual thrust is applied to free up "stuck" spinal joints.
One of the most common adjusting styles is referred to as "Diversified."
First, an analysis of the spine is performed. This can initially involve a case history and X-ray pictures of the spine.
A special hand arrangement called a "pisiform contact" is used to deliver a specific thrust at the right place and the right time.
Subsequent visits may include motion palpation, with the chiropractor feeling the spinal joints move as you turn and bend. Or, a leg check may be performed, to uncover an imbalance in the neck or lower spine.
With the malposition of one or more spinal bones identified, a specific manual thrust is administered. The direction, speed, depth and angle that are used is the result of experience, practice and a thorough understanding of spinal mechanics.
The energy delivered during the thrust may produce a slight "popping" sound from shifting gas and fluids in the joint. This sound may be interesting, but has little meaning as to the value and effectiveness of the adjustment.
While improving spinal biomechanics can reduce nervous system interferences, virtually all joints of the body can be adjusted to help restore proper range of motion.
Gonstead
This full spine approach relies on X-rays and a heat-sensing instrument for a thorough evaluation and documented results.
Named after its developer, Clarence Gonstead, this approach came from his engineering background. His "foundation principle" explains how a subluxation pattern in one area of the spine can produce compensatory changes in another.
A Thorough Evaluation
After studying your health history, we conduct a complete examination. This generally includes full spine X-rays and precise analysis. Using a small heat-sensing instrument, subluxation patterns are revealed by slight differences in temperature. Finally, we use our fingertips to "palpate" or feel the location of individual bones and how they may differ from their normal position.
Full Spine Correction
With a complete picture of your spine it's time to make the needed corrections.
To adjust your lower spine and pelvis, we'll have you lie on your side. Subluxations in the middle back are corrected as you assume a comfortable kneeling position. When you are seated, we can restore the integrity of your spine without twisting or rotating your neck.
Sometimes you'll hear a slight "popping" sound that we call cavitation.
Safe and Effective
The Gonstead Technique is acknowledged as one of the safest systems of evaluating and caring for the spine.

Thompson
Thompson Terminal Point technique is a system of analysis and a special table that reduces the amount of energy needed to adjust your spine.
The Thompson Technique, developed by Dr. J. Clay Thompson, has evolved into a system of analysis and a way of adjusting the full spine. The combination produces precise adjustments and high levels of patient comfort.
A System of Analysis
Early chiropractors noticed that subluxations would produce the appearance of a short, or contracted leg. Using a protocol of comparing leg lengths while the patient turned their head, helped determine whether the subluxation was in the upper, middle or lower back.
After gently lowering you to a prone position, individual drop pieces give way, reducing the amount of energy needed to adjust the spine.
Terminal Point Table
What patients often notice first is our segmental "drop" table. After stepping onto the platform, the table gently lowers you into a horizontal position. This helps preserve any leg length inequality.
Individual cushions or "drop pieces" located along the table surface, support each area of the spine until the thrust is given. Then, each drop-piece gently gives way, reducing the pressure needed to move a specific spinal segment.
Popular and Patented
So unique is this approach, Dr. Thompson was granted a patent in 1955. Since then, because of its precision and patient results, it is a technique used around the world.
Torque Release
With a gentle touch and a light thrusting by hand or an instrument called an Integrator, the brain/body connection is enhanced.
Read more about Torque Release +
Torque Release uses a gentle touch and light thrusting by hand or small, hand-held instrument called an Integrator. This low-force adjusting method allows the nervous system to better integrate and understand the new corrective information and to process it throughout the spinal cord and brain.
The hand-held instrument that delivers the energy is called an Integrator.
Imagine that your nervous system has a volume control. If the volume is too loud it causes distortion, with internal organ complaints, musculoskeletal stresses and diminished immune response. Too weak, and your body doesn't receive critical messages, showing up as sluggishness, reduced performance and poor muscle support. Torque Release looks to correct these problems by normalizing the functioning of the nerves, spinal cord and brain.
After each adjustment, the body is given time to process the change. Correction continues with your body's movements and breathing. This process teaches and empowers your body to make more corrections. Healing progresses with repeated visits.
The primary intent of Torque Release Technique is to reduce blockages and tension of the entire spinal system, to release trapped unresolved patterns in the body/mind and facilitate reintegration of the nervous system, allowing a greater expression of ones healing and performance capabilities.

Upper Cervical Technique
Upper Cervical adjusting is a little-known chiropractic procedure that corrects the position of the top vertebrae of the spine, the atlas and/or axis. By correcting the tilt, shift or rotation of these vertebrae, the effects of many conditions can be minimized or eliminated all together.
Read more about Upper Cervical Technique +
Upper Cervical adjusting is a little-known chiropractic procedure that corrects the position of the top vertebrae of the spine, the atlas and/or axis. By correcting the tilt, shift or rotation of these vertebrae, the effects of many conditions can be minimized or eliminated all together. When the atlas and/or axis are out of their proper position, the head moves off center of the body. This creates body imbalance from head to toe. The most serious result of an atlas and/or axis being out of position is the restriction or distortion of critical messages from the brain to ALL parts of the body.
The repositioning of the atlas vertebrae is done by hand or by instrument. There is no twisting of the neck. It simply restores body balance and brain-to-body communication so that organs, limbs and tissues can resume normal functioning. It is becoming increasingly clear that parents should have their children's atlas' examined as soon after birth as possible and have periodic atlas check ups throughout their lives. Countless problems could be avoided entirely. A rightly positioned atlas is so fundamental to good health that children to grandparents need to get their atlases examined now.
Get Started Today
If you've been to a chiropractor before and prefer to be adjusted in a particular way, let Dr. Norman Hoffman know. We want you to relax, enjoy and fully benefit from your chiropractic care.
CONTACT US »

Chiropractic Care | (403) 346-2297